The peanut peeling equipment production line is used for continuous processing and shelling of peanuts with the features of high degree of automation, low energy consumption and good shelling effect. The rate of perfect kernel is higher, it can be up to 85% and fully meet the export requirements.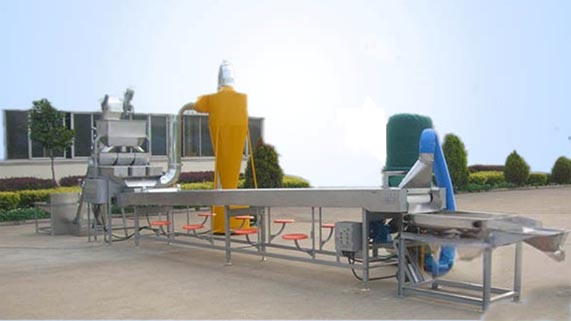 Process: peanut -> drying -> shelling -> picking -> whole and half grain grading -> packing
Major equipment: dryer, automatic shelling machine, sorting conveyer, whole and half grain grading machine, packaging machine.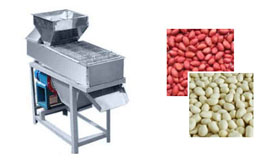 Peanut peeling machine (single):
Type: DTD-T40
Power: 0.75 kw
Output: 150-200kg/h
External dimension: 1100x350x1050 mm
The Dry type Peanut peeling machine adopts pneumatic principle; it can remove automatically the red skin of the peanut seeds without any damage. Mainly used to peel roasted peanut seeds. Peanut needn't be soaked in water can directly use this machine to peel.