The specification of peanut roasting machine
KZ series roasting machine has 3 kinds of 25 type,50 type and 100 type, each type of gas heating and electric heating in two ways. This roasting machine is used basically for baking peanuts, walnuts, chestnuts, apricot kernels, broad beans, soybeans and other foodstuffs in granular shape. This roasting machine is mainly composed of transmission part, electrothermal tubes, electic control case and air outtake. With the introduction of temperature controller, the temperature inside the roaster can be controlled automatically. It uses a rotary drum, heat conduction and thermal radiation theory and can be used in a variety of ways as a heat source, baked products taste pure.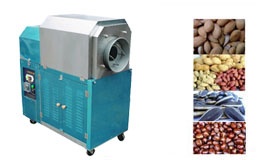 The parameters of peanut roasting machine
Model:KZ-25
Heating :6kw
Capacity:12.5kg
Size:990*470*100mm

Features of peanut roasting machine
The feature of peanut roaster machine
1. You can choose machine wholly made of 304 stainless steel and machine outer made of carbon steel And inner turning cage made of 304 stainless steel.
2. The hot air was used as the medium, the working temperature can be well controlled because this machine has an automatic temperature controller.
3. According to customer's requirements designed to use coal gas, diesel, electricity as fuel.
4.This roasting machine adopt unique horizontal roller structure, uniform heating, good sealing, and stew fried particularly effective. At the same time the structure has been improved this year, the back cover can be opened, so that maintenance and repair is very convenient.
5. In the process of roasting, the raw material is fried vertically in cylinder without stick. It is convenient to be out of pot, only by pressing the clockwise and reverse switch the roasted food can be out of pot and sieve and separate without manual separation.

KMEC is a professional peanut roasting machine manufacturers. We always quest for perfection with continuous creation. Warmly welcome everyone to visit our company and make business negotiation.