The research of peeling machinery is on the road of high speed, multi-function and intelligent control to meet the demand of marketing. As for some production, the package equipments are equipped with the peeling machine. It can work continuously or work with more function. In addition, the reject rate and failure rate need to be reduced to improve the normal production capacity. And the development direction is to push the intelligence of peeling machine. Next, the applying of peanut peeling machine, almond peeling machine and the broad bean peeling machine are introduced.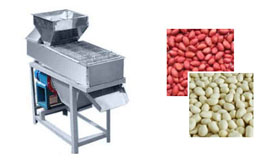 The peanut peeling machine is the ideal equipment for remove the red skin of peanut. The machine are used for produce the fried peanut, peanut pastry, peanut sugar, peanut milk, flavored peanut, eight treasures congee and peanut albumen powder etc. At the same time, the peeling machine can be used for the treatment of peeling for large scale peanut oil press. The unique character lies in the high peeling rate, low broken rate. The color is white without brown color and denaturation of protein. During the peeling process, the shell and kernel are separated automatically; it is efficient and easy to operate.

The almond peeling machine is fit for the pre-treatment of producing the almond drink and soybean products like the crystal Tofu, albumen powder, and soybean powder.

The broad bean peeling machines are widely used for peeling before producing fried broad bean and soybean paste etc. the peeling seeds are not break with automatic separation of nut and shell. It can also be used for scarfing.

KMEC is the earliest manufactures to develop, design and produce the peanut machine equipment in China with many years production experience, first class production equipment and standard finished products. Welcome to consult and purchase our products.