The specification of peanut roster machine
The peanut roaster machine covers a small area and has fast heating speed as well as excellent quality. Multi-purpose roasting machine is mainly used for peanut, peanuts, chestnuts, walnuts, almonds, eat beans, coffee beans, seeds and other granular materials, baking or drying. The machine with electric heating type, fuel oil, or gas and coal as heat source. Proved by several peanut products factory use,This machine is easy to use, high efficiency and energy saving, durable wait for an advantage. Baked products are of good quality and hygiene, taste is, all can achieve export standards.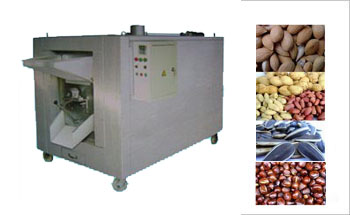 The parameters of peanut roaster machine
Model:KL-2
Transmission Power:2.2kw
Power:36-44kw/380v
Capacity:200kg/h
Size:2900*2100*1650mm

Features of roasting machine
The feature of peanut roaster machine
1. Automatic temperature controller
3. It is compact and stable and good-looking.
4. This roaster adopts unique horizontal cylinder which heat evenly and has good sealing and fried effect.
5. roaster is made of carbon steel or stainless steel , while the whole part touching food is made of stainless steel, which can avoid pollution food.
6. It adopts excellent insulator, so the heat efficiency is high to meet the temperature needs of different roasted food. The roasted food tastes good and it can save power and time.
7. easy operation and low failure rate

Working principle:
This machine is made according to electric heating roller rotation technology. For different users, we use 220V and 380V voltage. It adapts the unique cylinder suspension type and cylinder electric heating heating mode. During the working, first you should put the materials into the frying cylinder . and then it will heat automatically and rotate positively .
Maintaining of roasting machine
1. Add machine oil to each oil mouth before work. Do examine whether the worm gear box is lack of oil every week.
2. Close the air button for stop the machine of every shaft. If the roaster machine is out of use for a long period of time, the materials in the pan should be cleared out completely and drop a little bit eatable oil at the feeding mouth for 3 minutes continuously. The pan should be remained with oil to ensure the pan without rust.
3. If the roaster machine is out of use for long period of time, the roaster should be idle running for 10-15 minutes before using. Remove the remained sundries and dry the oil in the drum for heating.
4. The roaster machine should be rotates for heating. Close the roaster and the machine still needs to operate for 5-8 minutes.