The specification of peanut roster machine
Our KL series peanut roaster machine is mainly used in baking peanut, groundnut in shell, peanut kernel, chestnuts, walnuts, almonds, broad beans, coffee beans, seeds and other granular nuts food. It is one of necessary equipment for processing raw cashew nuts into varieties of cashew food.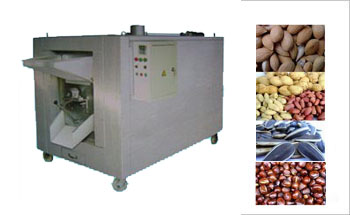 The parameters of peanut roaster machine
Model:KL-1
Transmission Power:1.1kw
Power:22.5kw/380v
Capacity:100kg/h
Size:2900*1400*1650mm

Features of roasting machine
The feature of peanut roaster machine
1. Adopting stainless steel to ensure food safety and hygiene, reaching GMP standard. Unique drum Horizontal structure,uniform heating,good sealing stew Fried effect is particularly good.
2. Accurate temperature control, roasted product of the same color and lustre is consistent.
lustre is consistent.
3. Suitable for processing a variety of dried fruits and nuts , such as : chestnut, peanuts, melon seeds, pine nuts , hazelnuts, almond , rapeseed , coffee beans , sesame seeds , fried herbs . Applies at various shopping malls , supermarkets, food stores , chain stores , street snacks.
4. Function Roasting Machine set the advantages of a variety of large Roasting Machine as a whole , you can use gas or coal as a heating source , auto rotate , auto stir fry , auto pan.

Maintaining of roasting machine
1. Add machine oil to each oil mouth before work. Do examine whether the worm gear box is lack of oil every week.
2. Close the air button for stop the machine of every shaft. If the roaster machine is out of use for a long period of time, the materials in the pan should be cleared out completely and drop a little bit eatable oil at the feeding mouth for 3 minutes continuously. The pan should be remained with oil to ensure the pan without rust.
3. If the roaster machine is out of use for long period of time, the roaster should be idle running for 10-15 minutes before using. Remove the remained sundries and dry the oil in the drum for heating.
4. The roaster machine should be rotates for heating. Close the roaster and the machine still needs to operate for 5-8 minutes.